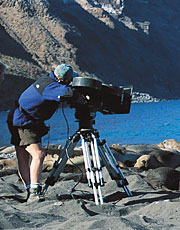 The vision began with a passion for the Baja California peninsula and the Sea of Cortés and evolved over twenty years. Summerhays Films, the San Diego Natural History Museum, and PRONATURA, Mexico's oldest and largest conservation organization, joined in partnership to create a giant-screen film highlighting the immense natural richness of the region. They called it Ocean Oasis in celebration of the abundance of life in an ocean surrounded by a desert.
For two years the filmmakers traveled to remote locations—some accessible only by helicopter, burro, or boat. They shot 320,000 feet of film—nearly 60 miles. Each 1000-foot load of film lasted only three minutes. Their camera weighed 85 pounds, another 250 pounds with its underwater housing. But they knew their subjects well, where to find them, and how to record their behavior.
They combined the film footage with recordings from the field, narrations by researchers, and an original musical score recorded by the Prague Symphony Orchestra, and the result is spectacular!
Meet the people with the dream to share their vision with the world: the director, producers, cinematographers, editor, script writer, composer, sound designer, researchers, advisors—all the people behind the scenes, and the on-screen naturalists who guide us through our journey.
Proceeds from Ocean Oasis
will support conservation, education, and research
in the Baja California peninsula and the Sea of Cortés.