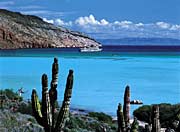 Lindblad Expeditions' Sea Lion in the Sea of Cortés, photo by Ralph Lee Hopkins
The film Ocean Oasis was sponsored by


and was made possible by

Almacenes Coppel, S.A.
Familia Luken Garza
Fundación Mexicana para Educación Ambiental, A.C.
Pulsar, S.A.
Walton Family Foundation
Museum Advisory Group
Lindblad Expeditions contributed to the filmmaking effort by escorting the Ocean Oasis film advisory group to Baja California and the Sea of Cortés aboard the M.V. Sea Lion. Iliana Ortega Bacmeister, one of their naturalists, is one of the narrators in the film.
We are grateful to the following museums for participating in our Sea of Cortés expedition and providing input on the Ocean Oasis project from their perspectives.
Carnegie Science Center of Pittsburgh, PA
Centro Cultural Planetario Alfa, Monterrey, Mexico
COSI Columbus, Columbus, OH
Denver Museum of Nature and Science, Denver, CO
Discovery Place, Inc., Charlotte, NC
Liberty Science Center, Jersey City, NJ
McWane Center/Discovery 2000, Inc., Birmingham, AL
San Diego Natural History Museum, San Diego, CA
The Science Place, Dallas, TX

Valentine Kass, Valentine Associates, Inc., a noted film consultant, also participated as a member of the Advisory Group.
San Diego Natural History Museum
Board of Trustees
CinemaCorp thanks the San Diego Natural History Museum's Board of Trustees for their advice and support during film production.
Miles L. Bowler
Sarah Brightwood
Pamela I. Buie
Charlotte Chandler
James V. Cimino, Ph.D.
Dale H. Clark
James F. Clements, Ph.D.
Kenneth G. Coveney, Esq.
Steve Gautereaux
Enrique R. Hambleton
James E. Lauth, Esq.
Joseph F. Kennedy, M.D.
Charles F. Kennel, Ph.D.
Jeffrey Kent
Janet Klauber
Peter Kovacs
Steven P. McDonald, Esq.
Dennis Morgan
Charles E. Nathanson, Ph.D.
Joan A. Parker
Rudolph J. Rehm

Richard J. Roncaglia
Eugene S. Ruffin
Harley K. Sefton
Ed Struiksma
Jose de la Torre-Bueno, Ph.D.
Vera A. Tucker
Mary Valdes
James Weseman
Ellen E. Zinn
Emeritus
Pamela M. Bruder
Mary H. Clark
Capt. Charles A. Guthrie
Norman C. Roberts, DVM
Thomas W. Sefton
Honorary
Philip M. Klauber
Donna Knox Sefton