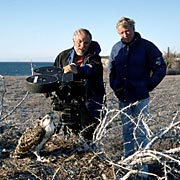 James Neihouse and Soames Summerhays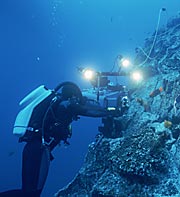 Bob Cranston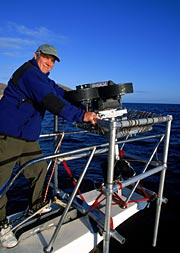 James Neihouse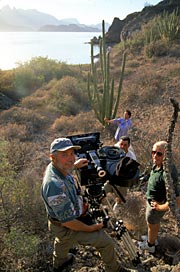 James Neihouse, Soames Summerhays, Mike Westcoat
"I love the smell of seal breath in the morning," James Neihouse wrote about his experience shooting footage of the elephant seals on Guadalupe Island. See selections from his journal.
Michael W. Hager, Ph.D., San Diego Natural History Museum, Executive Director
Dr. Michael W. Hager has been in the museum profession since 1965. He has served as a preparator, curator and director in a number of museums and has been a museum consultant for most of those years, as well. He was a professor of geology at Augustana College (1973-78), the director of the Museum of the Rockies (1978-89), director of the Virginia Museum of Natural History (1989-91), and is currently executive director of the San Diego Natural History Museum.
At the San Diego Natural History Museum, Dr. Hager led strategic planning efforts in 1991-92 that resulted in focusing the Museum's programs on Southern California and the Baja California peninsula, the founding of the Environmental Science Education Center and the Biodiversity Research Center of the Californias, and a capital campaign for the construction of an addition that will more than double the Museum's present size. Dr. Hager serves on the boards of the Elementary Institute of Science and Harborside School. He is the head of the Cultural Committee of the Binational Committee of Education and Culture (San Diego/Tijuana), and president of the Association of Science Museum Directors.
Dr. Hager earned a B.A. in biology from Grinnell College and a Ph.D. in geology from the University of Wyoming. His academic specialty is paleontology, and his administrative specialty is strategic planning and development.
Soames Summerhays, Producer/Director, Summerhays Films, Inc.
Born and educated in the United Kingdom, Soames Summerhays has, from his earliest years, had an absorbing interest in the natural world. He has a Bachelor's degree in biology, and later specialized in marine biology during his postgraduate studies. Early in his career he began leading expeditions worldwide and lecturing on subjects of natural history, historical and anthropological interest. In the course of a decade he led more than 100 expeditions to remote parts of the world, from Pole to Pole. Subsequently, he worked as a scientist and administrator for the Australian Government setting up Marine Parks along the Great Barrier Reef. During this period he published many articles in popular science journals and trade magazines and has been a contributing author to a number of books.
Soames Summerhays film making career began in 1979, with the IMAX® production of The Great Barrier Reef. Subsequently, he started Summerhays Films in 1985. He has produced and directed many large format films for destination theaters, IMAX® theaters, theme parks and world expositions and is the recipient of many awards. His other IMAX® film credits include Darwin on the Galapagos, Seasons, and Ring of Fire. Currently in production, his company is producing a large format (1570) film on Yosemite for the Giant Screen Theater Association.
Don Steele, Co-executive Producer/Line Producer/Marketing and Distribution, Summerhays Films, Inc.
Don Steele, executive producer and business manager for Summerhays Films, Inc., has over 30 years of experience in the development and management of successful business enterprises. Associated with Summerhays Films since 1987, he has provided his expertise in marketing, promotion, sales, finance, and general management for several large-format film productions. He currently oversees the firmís needs for marketing and general management.
With a reputation as a manager with the capability to create and develop the sales and marketing, Don has lent his talents to numerous companies that include start-ups and spin-offs. Companies benefiting from his expertise include Control Data Corporation, K-D Products, US Connect, Impact Solutions, Inc., AUDRE, and Sonant Corporation in which he has held leadership positions.
Don has a Bachelor of Science degree in business management, with emphasis in marketing and finance, from San Diego State University.
James Neihouse, Director of Photography
James Neihouse has worked as Director, Director of Photography or Cameraman on over 20 15/70 (70MM IMAX® - IMAX® Dome) films, as well as numerous features, commercials, industrial/educational/documentaries, entertainment/music videos, and news/feature stories. His current projects include Director of Photography for BEARS, The Jane Goodall Story, YOSEMITE, The Worlds Games, Astronaut Training Manager and Director of Photography for The International Space Station IMAX 3D movie, and Michael Jordan —To The MAX.
His awards and honors include: New York Festivals Award Gold World Medal 1995, for Best Camerawork on Electric Skies for The Learning Channel. Destiny In Space received a First Place "Gold Camera Award" from U.S. International Film and Video Festival. Destiny In Space received a Gold Medal in the Flight & Space Travel category from Worldfest Houston. The Eruption of Mount St. Helens was nominated for an Academy Award for Best Short Documentary, 1980.
Born and raised in Paris, Arkansas he attended Brooks Institute of Photography, 1974 -1976, graduating with a Bachelor's degree with a double major in industrial photography and color technology with a minor in undersea technology. He currently lives in Rockledge, Florida, with his family and is the owner of Shot in the Dark Productions and Neihouse Films, film and video production companies.
Bob Cranston, Director of Underwater Photography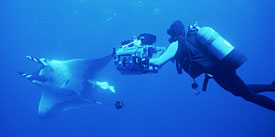 Bob Cranston of San Diego, California, has been diving with a camera since he was 13 years old, using a Nikonis, his first underwater camera. At age 16 he became an assistant dive instructor and by his 18th birthday he became a full dive instructor with NAUI. A commercial fisherman, he lived on his own boat acquiring extensive knowledge of the Pacific and its creatures. As a consultant to the U.S. Military Special Forces, he trained military divers and developed dive equipment, working for Diving Unlimited International. Since the mid-80s he has been an underwater cinematographer for television and movie companies filming marine life for broadcast and theater.
With nearly 20 film credits to his name, Cranston has filmed for Discovery Channel, Gruppe 5, German television, National Geographic television, Audubon, WNET Nature, and ESPN. His large-format film credits include Island of the Sharks, Into the Deep, The Living Sea, Search for the Great Sharks, Tierra de Gracia, Dolphin Dreams and Journey of Man, now in post-production for Northern Sun Productions.
From St. Ignatius, Montana, Parfit is the author of four books, including Chasing the Glory and South Light: A Journey to the Last Continent, a nonfiction work about life in Antarctica, which was a New York Times Notable Book of the Year in 1986. He was the final scriptwriter for Antarctica, an IMAX/OMNIMAX documentary film seen worldwide by over seven million people. He wrote the bulk of the text for two National Geographic special editions: Water and Emerging Mexico.
Born in London, England, and educated in England, Brazil and the U.S., Parfit is a graduate of the University of Southern California. He has written often for the National Geographic, Smithsonian and many other magazines, on topics as diverse as water, geology, world fisheries, Native Americans, Tony Hillerman, Earth First! and parachuting. In 1998 he had four articles published in National Geographic, on natural hazards, the Yukon River, the Antarctic dry valleys, and human migration. In 1999 the National Geographic published his article on rodeo and in July, 2000 on the Australian environment.
Parfit's November, 1995, National Geographic article on world fisheries was honored with the 1996 Overseas Press Club award for best environmental reporting in all media. He won the Walter Sullivan Award for Excellence in Science Writing by the American Geophysical Union. His work has been in the finals for the National Magazine Awards three times and he was a semi-finalist for the Journalist in Space program.
He is a founding principal of Parfit & Chisholm, which has recently produced 30 minute documentaries on the Colima volcano in Mexico (In the Shadow of the Volcano) and African refugees in Tanzania (Letters from the Forgotten People).
Born in Yorkshire, England, educated at Bristol University with a Bachelor's degree in zoology, Mark Fletcher lives in Wiltshire, England. He is a freelance film editor and producer who has worked around the world for broadcasters and film companies, including the BBC, National Geographic, NBC, Discovery, PBS, making upwards of 50 award-winning films. His work includes People of the Forest, Leopard Son, and Island of the Sharks (IMAX). He has won numerous Emmy nominations; Best of Festival prizes at Jackson Hole Wildlife Film Festival; Wildscreen (Bristol); Peabody, and many other international film festivals.
He also takes stills for magazine travel articles including Vogue, Island Magazine, Conde Nast Traveler, and Mail on Sunday Magazine and has been location cameraman for BBC documentaries and co-writer with Samantha Fletcher on BBC Natural World.
Mark is currently setting up a post-production facility in Wiltshire, England with PC-based Avid. From 1994 to 1999 he owned Mark Fletcher Productions, a post-production facility in Bristol, England.