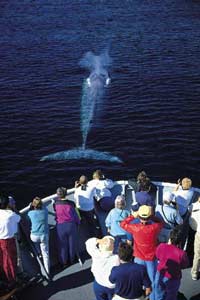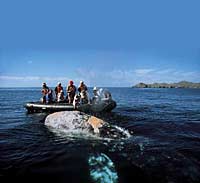 Lindblad Expeditions
Baja California, Galapagos, Alaska, Egypt, Antarctica — since 1979, Lindblad Expeditions has been offering expeditions to some of the world's most extraordinary destinations. They have a unique approach to travel. Their goal is to provide you with an intimate sense of a destination. With Lindblad Expeditions, you always travel as part of a small group, avoid crowded tourist stops, and explore places of natural beauty and rich history. On every journey, a hand-picked staff of expert naturalists and historians share their observations on geology, wildlife, history and archaeology. On their different itineraries to Baja California and the Sea of Cortés, seeing whales in their natural habitat is one of the great delights of these voyages. They venture among the whales in Zodiac landing craft, giving a water-level perspective that is a rare privilege in the natural world. (For more details, see Among the Great Whales, on Lindblad Expeditions' website.)
Lindblad Expeditions is very enthusiastic about the release of Ocean Oasis, and was pleased to contribute to the filmmaking effort by escorting the Ocean Oasis film advisory group to Baja California aboard the M.V. Sea Lion. Iliana Ortega Bacmeister, one of their naturalists, narrates and participates in the film.
San Diego Natural History Museum
The San Diego Natural History Museum specializes in classes, trips, and expeditions focused on peninsular Baja California as an expression of its mission to promote understanding and conservation of the region's biodiversity. A variety of programs satisfy both first-time visitors looking for an introduction to Baja California, and also seasoned travelers seeking that "off the beaten track" locale. Experienced museum naturalists and scientists lead these trips, sharing both their intimate knowledge of the region and latest research findings. The schedule varies from year to year, but usually includes botanizing and birding expeditions, mule trips to visit the mural cave paintings of the Sierra de San Francisco, opportunities to explore the missions of Baja California, and kayaking trips in the Sea of Cortés. Annual favorites include fly-down and drive-down whale-watching adventures to Punta Piedra, a tent camp on San Ignacio Lagoon, where you have the opportunity to observe gray whales from skiffs and shore. For the current schedule of trips, see the Education Programs Catalog on the SDNHM website.