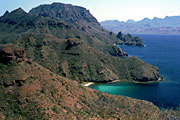 Isla Danzante

Loreto is a small town localized in a bay in the Central Gulf Coast of Baja California Sur. The Bay is surrounded by five islands (Coronado, del Carmen, Danzante, Monserrat and Santa Catalina). The growing pressures of large fishing boats on the fisheries of the bay induced a collapse of the local fisheries in the 1970s and 1980s, and in doing so stated to generate a concern on the local panga fishermen and sport fishing operators on how to protect their bay from the larger fishing fleets.
Many measures were proposed, like sinking boats in the bottom of the bay to destroy the shrimpboat dragnets, but they were not executed. In 1995 the Municipal President of Loreto, Mr. Alfredo Garcia Green, started meeting with conservationists and concerned citizens to discuss the issue. With the leadership of Grupo Ecologista Antares (GEA, a local conservation group), a proposal was prepared and submitted to the Federal Government to protect tha Bay of Loreto, including the five islands. On July 19, 1996, the Parque Marino Nacional Bahía de Loreto was created by a Federal decree (DOF 1996a). In December 1996, when Mexico's Environmental was changed, the marine park was re-categorized as a National Park (DOF 1996b).
Conceptually, the 206,580 ha National Park was major breakthrough. Although the islands of the Sea of Cortés had legal protection since 1976, the sea surrounding them did not. Many conservationists have argued that the decree protecting the islands should be extended to the marine ecosystems around them, but fierce oposition from the large-scale fisheries lobby has prevented this from happening. In the Bay of Loreto, the concerns of the local community proved to be stronger than the interests of the fishing industry. In 1999, the park had modest financing for a Director, vehicles, basic equipment, and an office. It also had a working management plan and the full support of the local people, which position the park as a leading protected natural area in Mexico.


Islas del Carmen, Danzante, Santa Catalina
Continue to
The Lower Gulf: Isla Coronado