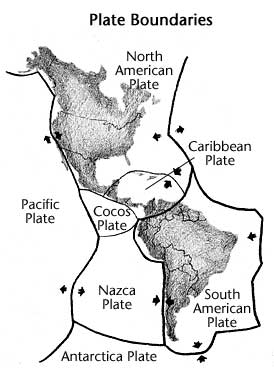 Earth's lithosphere (crust and upper mantle) is cracked into pieces, called plates. These plates, driven by convection currents, drift across the underlying mantle. Some plates pull apart (diverge), and some collide (converge). One plate may slide by another in a lateral (transform) movement. These movements cause earthquakes and contribute to the formation of mountains, volcanoes, and seas. The theory of plate tectonics explains the concept of Earth's lithosphere as being constructed of moving plates.
Seafloor spreading, a divergent activity, takes place at mid-oceanic ridges as magma pushes up through cracks in the crust, pushing plates apart and forming new ocean crust. The mid-Atlantic ridge is the best known spreading zone. A smaller spreading zone is found in the middle of the Gulf of California, moving Baja California away from mainland Mexico.
Subduction, a convergent activity, occurs as a plate with heavier ocean crust collides with a plate of lighter, continental crust. The ocean crust pushes under and sinks into the mantle. Ocean trenches, volcanoes, and island arcs are associated with subduction zones.
Another type of convergent activity occurs when two plates carrying continental crust converge. Mountains may be thrust up at the boundaries. An example would be the formation of the Himalayan mountains.
At transform boundaries one plate slips and grinds against another. It is a place where earthquakes occur as pressure builds, and then releases with the shifting crust. The San Andreas Fault, which extends from Northern California to the Gulf of California, is one of the most famous transform faults. It is along this fault that Baja California and part of Southern California are shifting northwestward.