Grusonia invicta
Club Cholla, Casa Rata
CACTACEAE (Cactus Family)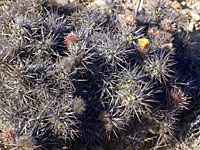 Description
This cactus is grows approximately 0.2-0.3 m (7 to 11 inches) high. Club Cholla has deep green club-shaped joints that are 12 cm (5 inches) long. The spines are thick and strongly flattened, 1- 5 cm (1/2 to 2 inches) long, and are at first bright red at the base, turning grayish-white and finally black. The flowers have yellow petals and bloom from April to May.
Range and Habitat
Club Cholla grows in silty, sandy, or gravelly soil near the coast from the Vizcaíno Desert Region to just north of the Cape Region.
Natural History
The Club Cholla is a mat forming cactus and is also know as "Horse Crippler" and "Rat House." The name rat house has been given because it provides protection to various rodents who build their burrows under this plant.