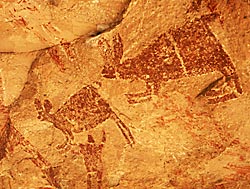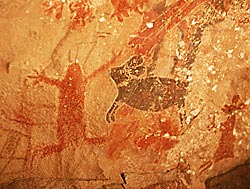 There is rock art throughout the peninsula of Baja California. However the style in the film, Ocean Oasis, is from the Great Mural Area in the center of the peninsula — 12,000 sq. km (about 7,500 sq. mi.), from Bahía de Los Angeles in the north, to Bahía Concepción in the south.

We don't know the name of the people who created these vast painted sanctuaries or how long the pictorial tradition lasted. There is a date of 5,000 years before the present for pigment at a site in the Sierra de San Francisco (Cueva del Ratón). Because of their extraordinary legacy, these people are referred to as "the painters." Semi-nomadic hunters and gatherers, they spent their lives making a seasonal circuit of their land. From springs in mountain canyons, to upland mesas, to both seas, they harvested the mid-peninsula's diverse resources. They took shelter from the summer sun in the caves along steep canyons in the mountains. These rock shelters provided huge canvases for a complex and rich art form. Its significance will probably never be fully understood, but it is associated with a belief system incorporating hunting magic, renewal of life, and a profound view of the world. Found in hundreds of sites, with thousands of figures, their work is known as some of the world's finest examples of prehistoric art.

The Sierra de San Francisco is a World Heritage Site and may only be visited with official guides and the authorization of Mexico's National Institute of Anthropology and History (INAH).