Brahea edulis
Guadalupe Palm, Palma de Guadalupe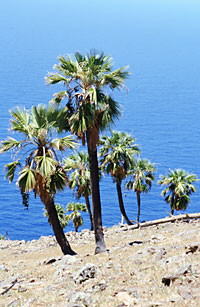 ARECACEAE (Palm Family)
The generic name, Brahea, refers to Tycho Brahe, 16th and 17th century Danish astronomer. The specific epithet, edulis, refers to the edible fruit.
Description
A small fan palm growing to 10 m (30 feet) high with a highly fissured trunk 40 cm (1-1/2 feet) in diameter. The palm can be distinguished from other Brahea species because it does not have a skirt of persistent dead leaves, or leaf petioles. The large fan-shaped leaves are a shiny green and usually have an indentation along the midrib. This palm flowers from February to March with black fruits (25 to 35 mm across) forming in summer. Other members of this genus that are native to Baja California region are Brahea armata (Blue Fan Palm), and Brahea brandegeei (Palma Palmia or Palma de Taco).
Range and Habitat
The Guadalupe palm is endemic to Guadalupe Island where it occurs primarily on the north end of the island on steep rocky slopes. Guadalupe Island is located in the Pacific Ocean off of central Baja California. The Guadalupe Palm is a very popular ornamental palm in southern California and many of them are planted along Village Place north of the Natural History Museum in San Diego's Balboa Park. See the museum's web pages on Guadalupe Expedition 2000 for more information about the island.
Natural History
The palms' native habitat on Guadalupe Island has been severely impacted by feral goats that have inhabited the island for decades. Few, if any, of the seedlings survive because they are eaten by the goats. Protection of the native habitat and exclusion of the goats might allow the palms to flourish in large numbers on the island once more.